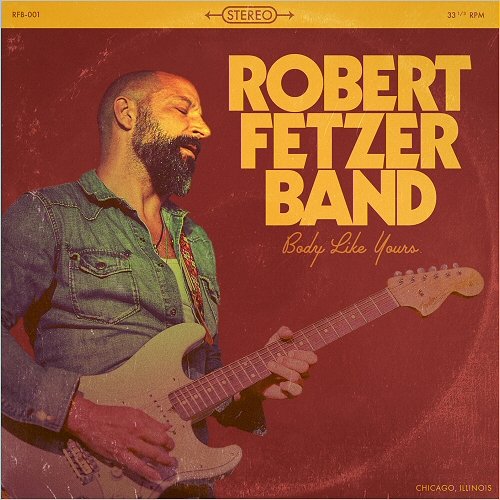 Artist
:
Robert Fetzer Band
Title
:
Body Like Yours
Year Of Release
:
2019
Label
:
Self Released
Genre
:
Chicago Blues, Blues Rock
Quality
:
FLAC (tracks) | MP3 320 kbps
Total Time
: 35:47
Total Size
: 243 MB | 85 MB
WebSite
:
Album Preview
Tracklist:
1. Dust My Broom (3:23)
2. Ghetto Woman (4:49)
3. On My Knees (5:36)
4. All Your Love (5:35)
5. It Hurts Me Too (4:46)
6. Body Like Yours (5:51)
7. Your Love Is Like A Cancer (5:44)

There's so much hard-fought onstage experience within the ranks of the Robert Fetzer Band that it's no wonder this outfit is one of the hottest aggregations currently gracing Chicago's blues scene. Their new demo showcases what four master musicians, all permeated in uncompromising Windy City blues tradition, can do together in a recording studio. For that matter, in front of a jam-packed house in a concert venue as well.

Vocalist/guitarist Fetzer cut his musical eyeteeth behind two genuine Chicago blues legends: droll tenor saxman A.C. Reed and fiery guitarist Son Seals. Fetzer has been successfully leading his own band for more than a decade, ensuring a confident, thoroughly professional presentation in any setting. Bassist Greg Simmons lays down a seamlessly funky underpinning alongside Fetzer, just as he did when the two shared space on the proscenium when they were integral to Son's combo.

Roosevelt "Hatter" Purifoy, Jr. has long been one of the most in-demand keyboardists in his native Chicago, providing two-fisted ivories power for Eddie King, Carlos Johnson, Jimmy Johnson, Eddie Shaw, Lurrie Bell, and many more. And Willie "The Touch" Hayes has reigned as one of the Windy City's leading blues drummers for nearly half a century, having kept flawless time for the immortal Magic Sam, Mighty Joe Young, Big Twist and the Mellow Fellows, Junior Wells, and Seals (he was in Son's crew during the same period as Robert and Greg).
Together as a skin-tight unit, the Robert Fetzer Band carries on the great electric Chicago blues tradition that its veteran members first embraced decades ago, at the same time expanding the boundaries of the genre to showcase each member's own boundless strengths. Expect to hear plenty more in the near future from the Robert Fetzer Band!


My BlogFor requests/re-ups, please send me private message.
This album Robert Fetzer Band – Body Like Yours (2019).rar, uploaded by Vapemat on February 11, 2019. If you want to download Robert Fetzer Band – Body Like Yours (2019) torrent, just click the download link above and you will be redirected to short url page, after that you must click skip ads and download Robert Fetzer Band – Body Like Yours (2019).zip.
Tags:
robert fetzer band – body like yours (2019) zip download
download robert fetzer band – body like yours (2019) rar
zippyshare robert fetzer band – body like yours (2019) torrent download
download mp3 robert fetzer band – body like yours (2019) cbr 320kbps cd rip
download robert fetzer band – body like yours (2019) m4a itunes
flac robert fetzer band – body like yours (2019) lossless download