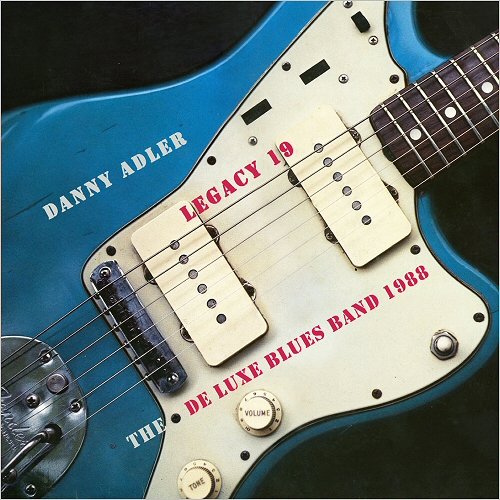 Artist
:
Danny Adler
Title
:
The Danny Adler Legacy Series Vol. 19: De Luxe Blues Band 1988
Year Of Release
:
2014
Label
:
Roogalator
Genre
:
Electric Blues, Blues Rock
Quality
:
FLAC (tracks) | MP3 320 kbps
Total Time
: 39:50
Total Size
: 290 MB | 95 MB
WebSite
:
Album Preview
Tracklist:
1. Avocado Eldorado (4:50)
2. Something Inside Of Me (5:09)
3. Mary Mary (3:15)
4. Calling In The Flag (2:59)
5. Cold Cold Feeling (4:50)
6. Steel Truckin' Man (2:53)
7. I Held My Baby Last Night (4:07)
8. Freight House Blues (3:43)
9. One Way Out (3:24)
10. The Sun Went Down (4:36)

Born in Cincinnati, Ohio in 1949, Danny Adler is firmly established among the finest blues guitarists of the rock & roll era, a solidly original stylist whose early exposure to the jazz and R&B scenes of his hometown was quick to explode into a thoroughly individual style. The string of albums he kicked off in the mid-'70s with his band Roogalator, and which continues through to 2012's multi-disc Archive series of retrospectives, remains a work of constant rediscovery, both for veteran fans and the new audience that has discovered him through the Internet.

In addition, Adler has played alongside some of rock's most storied names, including stints in Charlie Watts' Rocket 88 with Ian Stewart, Jack Bruce, and Alexis Korner, and the Deluxe Blues Band with Bob Brunning and Mickey Waller. He was a founding member of Dave Edmunds and Nick Lowe's Disco Brothers studio band in 1975, and many more.

Gigging around Ohio, Adler made his professional debut in Amos Milburn's band, a setup which broadened his musical exposure by placing him on-stage with legends Chuck Berry, Memphis Slim, Slim Harpo, Arthur Crudup, and T-Bone Walker, among others. Another early band, the Blues Doctors, can be heard on the first volume of the Archive series, and includes a number of the guitarist's earliest compositions. A stint in California in the late '60s was followed by relocation to New York City, where Adler was a member of Elephant's Memory, cutting the "Skyscraper Commando" single with them, but departing shortly before the band's union with John and Yoko.

Moving to Europe, Adler performed across the musical spectrum, swinging from Ginger Johnson's African Drummers to the Irish country circuit; studying jazz guitar in Paris and then forming the proto-glam band Smooth Loser with Jeff Pasternak, brother of the popular U.K. disc jockey Emperor Rosko. Smooth Loser recorded a handful of sessions (available now on volume three of the Archive series), including an excellent session at 10cc's Strawberry Studios. Despite the band's connections, however, no deal was forthcoming and Adler quit to form a new band, Roogalator, in 1973.

Several lineup changes later, Roogalator were being feted as the next big thing by the pre-punk U.K. press, touring with Dr. Feelgood and signing with the fledgling Stiff Records for 1976's legendary All Aboard single. Momentum was lost, however, when Stiff was forced to withdraw the single's picture sleeve over copyright issues, and when Roogalator resurfaced, the musical climate had changed dramatically. Bands that had once opened for Roogalator, the Sex Pistols and the Clash included, were the new media heroes, and while Roogalator rocked on, it was a very different band that cut their debut album.

Unlucky when the much-loved 45 "Love and the Single Girl" flopped, Roogalator broke up in 1979, Adler moved into session work at the same time as becoming a founding member of Rocket 88. The Deluxe Blues Band followed, and the two groups who were a constant presence on the U.K. club scene of the early to mid-'80s.

The Danny Adler Band swiftly joined them and a staggering discography followed, the four Deluxe Blues Band albums (A Streetcar Named De Luxe and Live at Half Moon Putney, both 1981; Urban DeLuxe in 1983; and Motorvating in 1988) being joined by no less than nine solo and band LPs, all released to critical acclaim in Europe throughout the '80s: Funky Afternoons (1979), Gusha Gusha Music (1980), Live (1982), an eponymous set (1983), Hubcap Heaven (1986), Hometowns and High Iron (1987), Night Shift (1987), Mackinaw City (1989), and Homestretch (1990). In addition, Adler also pulled off one of the great blues hoaxes of the decade, with the "discovery" of Otis "Elevator" Gilmore in 1986 — an unknown legend of the blues whose true identity, Adler himself, eluded many otherwise impeccable scholars.

Adler returned to the U.S. in the early '90s, fading from invisibility somewhat, but remaining a breathtaking performer on the occasions when he did resurface; the live album Jazzin at RVGs, from 1993, is a dynamic performance, and in 1999, Adler returned to action with the Mother's Day CD. Boat Diddley followed, while Adler has also been active remastering both his back catalog and a voluminous archive for the much-acclaimed Archive series. He also engineered a 2011 Roogalator live reunion in the U.K., while 2012 brought the single "Political Dancing." ~by Dave Thompson


My BlogFor requests/re-ups, please send me private message.
This album Danny Adler – The Danny Adler Legacy Series Vol. 19: De Luxe Blues Band 1988 (2014).rar, uploaded by Vapemat on February 11, 2019. If you want to download Danny Adler – The Danny Adler Legacy Series Vol. 19: De Luxe Blues Band 1988 (2014) torrent, just click the download link above and you will be redirected to short url page, after that you must click skip ads and download Danny Adler – The Danny Adler Legacy Series Vol. 19: De Luxe Blues Band 1988 (2014).zip.
Tags:
danny adler – the danny adler legacy series vol. 19: de luxe blues band 1988 (2014) zip download
download danny adler – the danny adler legacy series vol. 19: de luxe blues band 1988 (2014) rar
zippyshare danny adler – the danny adler legacy series vol. 19: de luxe blues band 1988 (2014) torrent download
download mp3 danny adler – the danny adler legacy series vol. 19: de luxe blues band 1988 (2014) cbr 320kbps cd rip
download danny adler – the danny adler legacy series vol. 19: de luxe blues band 1988 (2014) m4a itunes
flac danny adler – the danny adler legacy series vol. 19: de luxe blues band 1988 (2014) lossless download